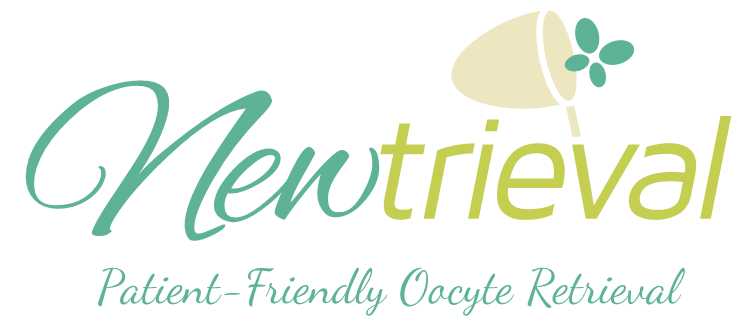 Newtrieval is a new friendly IVF procedure technique developed at Reproductive Medicine Associates of New Jersey (RMANJ) for patients who have a history of side effects from general anesthesia, are contraindicated for general anesthesia or prefer to be awake during the Vaginal Oocyte Retrieval (VOR) procedure.  Newtrieval is a new process for vaginal oocyte retrieval during IVF that utilizes acupuncture
and other safe and effective alternatives to general IV sedation.
HOW DOES IT WORK?
During a traditional IVF cycle, patients are stimulated with medications and their oocytes (eggs) are retrieved by transvaginal ultrasound, or VOR.  VOR is commonly performed under a general IV sedation which for some patients creates unwanted side effects such as nausea, confusion, and fatigue.  In addition, for some patients the financial costs of anesthesia may not be covered by their insurance plan.
Now instead of traditional IV sedation which may cause side effects, RMANJ's Newtrieval gives patients a safe and effective alternative to general IV sedation by using local anesthesia in combination with electro-acupuncture during VOR.  Some patients may experience an increased level of local and temporary pain with the Newtrieval protocol.  However it offers fewer side effects than a traditional IV sedation recovery period which may limit driving and other activities for at least 24 hours.
HOLISTIC ANESTHETIC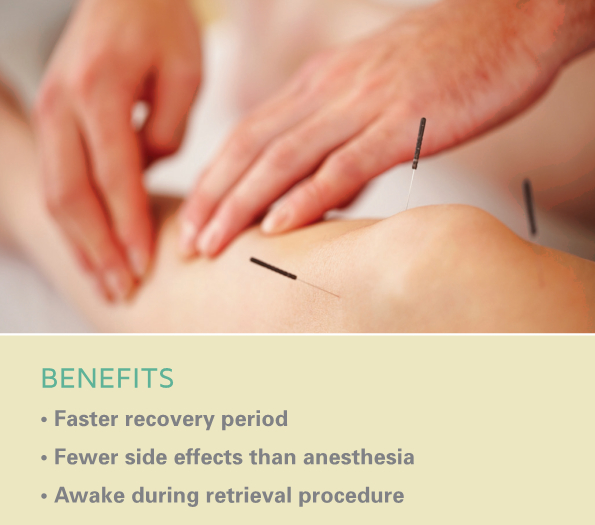 Currently the most common form of anesthesia used during VOR in the U.S. is conscious sedation achieved with IV medications like proprofol. This technique is commonly used and safe, but like all anesthesia, may create a risk of bradycardia (slowness of the heart rate) and apnea (brief pause in breathing) during the procedure and often results in post-op side effects such as nausea, disorientation, and tiredness.
Acupuncture is a method of treatment that dates back at least 3,000 years, has demonstrated its anesthetic effect both intra-operatively and post-operatively (Kho et al.,1991; Wang et al., 1997; Fanti et al., 2003).  Acupuncture with needle penetration of the skin and underlying muscles, followed by stimulation of the needles by manual rotation or by electrical stimulation of the needle (electo-acupuncture) excites afferent nerve fibers and inhibits pain transmission at the spinal level when these same segments are exposed to painful stimuli.  This form of acupuncture has shown to activate the central endogenous opioid system including the descending pain inhibitory systems while at the same time, generating a favorable psychological response (Andersson, 1995; Stener-Victorin, 2002).
DOES NEWTRIEVAL IMPACT MY CHANCES FOR ACHIEVING A SUCCESSFUL PREGNANCY?
At this time, Newtrieval has not shown any positive or negative effect on pregnancy rates.  As an operative intervention, we would not expect Newtrieval to influence pregnancy rates or other parameters of your cycle.
WHAT PATIENTS ARE SAYING ABOUT NEWTRIEVAL

Similar pain scores between traditional IV sedation and Newtrieval
Similar anxiety scores between traditional IV sedation and Newtrieval

Nearly 95% reported they would chose Newtrieval for their next VOR
Like any medical treatment, Newtrieval is not right for everyone.  Ask your RMANJ physician if Newtrieval is right for you.