Starting June 1st  2014, RMANJ physicians will see patients for a fertility consult on Monday's and Thursday's at their office in the MAC II building on the Overlook Hospital campus. "For over 5 years, RMANJ has had a presence at Overlook to meet the needs of local patients and providers looking for access to unique, well-validated, and highly effective treatments for infertility," commented Dr. Shefali Shastri, one of the RMANJ physicians with appointment hours at Overlook. "These new hours support the needs of hopeful parents from the area and compliments our other locations in Morristown, Basking Ridge, West Orange, Somerset, Englewood, and Eatontown" added Dr. Shastri.
Also available for a fertility consultation at Overlook is Dr. Jamie Morris. "At RMANJ we're able to get many patients in to see a specialist in a matter of days which is critical when you're dealing with infertility. If you've around 35 and been trying to get pregnant for a year or more without success you shouldn't wait to seek help. We have offices all over the region and 15 physicians so patients can get in quickly and have a lot of choices in care," offered Dr. Jamie Morris.
Make an appointment at Overlook or at any one of our seven locations, please call our dedicated team of patient liaisons at 973-656-2089.
RMANJ – Overlook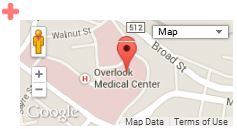 MAC II Women's Center, Suite LL102
11 Overlook Rd
Summit, NJ 07901