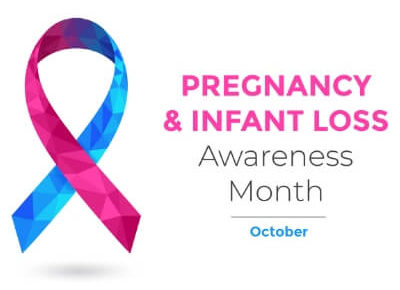 Losing a pregnancy or infant is a heartbreaking event. Whether through miscarriage, pregnancy loss, stillbirth or early infant demise, the experience is generally unexpected and can be devastating. It is not uncommon to find that the support from family and friends falls short. As much as they care about you, they cannot truly fathom this loss.
Pregnancy and Infant Loss Remembrance Day was created to give us a chance to pause, share our grief with others who are in the same position and honor the lives that we wish had been realized.
RMANJ invites those with any type of pregnancy loss to our Basking Ridge office on October 15 at 6 p.m. to observe this occasion in a community of others who understand. We welcome individuals, couples and people who did not conceive through RMANJ.
We will gather at 6 p.m. for an hour of reflection and support before stepping outside at 7 p.m. to light candles and participate in the international 'Wave of Light.' This is a ceremony happening at the same time around the world to bring awareness and meaning to those grieving on Pregnancy and Infant Loss Remembrance Day.
The event will be led by RMANJ counselors, Judy Kottick and Jennifer Gamper Meenan, who acknowledge the evening is one of the most important of the year. "It is so meaningful for us to share in the grief of our patients and those in the wider community," Kottick said, "because these lives will always remain in our hearts and minds. Honoring their memory has a profound impact on all of us."
Join RMANJ for Pregnancy and Infant Loss Remembrance Day
Date: Monday, October 15, 2018
Meeting Start Time: 6:00pm sharp
Candle Lighting: 7:00pm
Location: 140 Allen Road
Basking Ridge, NJ 07920
RSVP Required by 10/12: Judy Kottick, LCSW
(973) 871-1222 or [email protected]
MAKE AN APPOINTMENT