Last month, three RMANJ doctors got on a plane and traveled to Dallas, Texas. This wasn't a vacation, but there was reason to celebrate: Dr. Franasiak, Dr. Kaser and Dr. Goodman would sit for their oral board exam in reproductive medicine, the culmination of more than a decade of study, research and practice.
All three passed, completing the final step in their certification in reproductive endocrinology. The rest, as they say, would be history.
But what got these three doctors here in the first place? It all started with a calling. Read the first in a three part series about these physicians, starting with Dr. Linnea Goodman.
The Calling: Dr. Linnea Goodman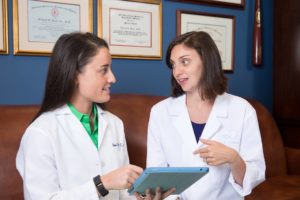 When Linnea Goodman was young, she had a lot of ideas about wanted she wanted to do when she grew up. First it was an inventor, then a teacher, then a marine biologist. Knowing she excelled in math and science but unsure of the direction it would lead, she applied to the engineering school at Columbia University in New York City.
It was there, amidst the environment of innovation and technology, that Dr. Goodman began to consider a career in medicine.
"I loved the idea of designing and building things that could change the landscape of medicine as we know it," Dr. Goodman said.
After obtaining a degree in biomedical engineering, Dr. Goodman attended medical school at the University of Vermont. While she truly enjoyed each specialty she encountered, it was the surgical ones she was drawn to. The unique combination of surgery and patient continuity led her to pursue residency in OB/GYN at the University of North Carolina.
Again, she thoroughly enjoyed both obstetric and gynecologic care, but felt a connection to Reproductive Endocrinology and Infertility (REI).
"The field had it all – there is surgery, critical thinking, challenge and the reward of helping someone have a baby," said Dr. Goodman, who sees patients at RMANJ's Basking Ridge office.
Drawn to the hands-on side of the field, she completed her fellowship in REI at the Cleveland Clinic, a world-renown center for reproductive surgery. She then joined RMANJ in 2016 as a physician who splits her time between seeing fertility patients and carrying out reproductive surgery, specializing in minimally invasive surgery.
"The human body is amazing and delicate," Dr. Goodman said. "My goal is to restore a person's natural anatomy in the gentlest manner possible."
Dr. Goodman performs two main types of surgeries: hysteroscopies and laparoscopies. The first surgery is used to view the uterine cavity and to address any pathology that would have an impact on pregnancy. The second is where a small camera is placed within the abdomen to allow visualization and treatment of endometriosis, fallopian tubal disease, fibroids and adhesions. Both surgeries are aimed at creating a conducive environment for embryo implantation and pregnancy.
Dr. Goodman works both with patients who go on to receive IVF, and those who try to conceive naturally following their operations. Last year, she did over 350 of these surgeries, and this year she's on track to do even more.
"The work is challenging," Dr. Goodman said, "and there is certainly a need for surgeons trained with reproduction in mind to help patients with fertility as their primary goal."
When she's not in the operating room, seeing patients or performing in vitro fertilization (IVF) procedures, she is pursuing what led her to medicine in the first place – innovation and technology. Along with RMANJ fellow Dr. Shelby Neal, Dr. Goodman has been studying the link between the shape of the uterus and pregnancy outcomes.
"Uterine factor infertility is poorly understood," Dr. Goodman said. "We really want to understand how we can optimize the uterus for pregnancy."
It's safe to say she won't be satisfied until she figures it out.
Check back next week for the second installment of 'The Calling' series, on Dr. Dan Kaser.