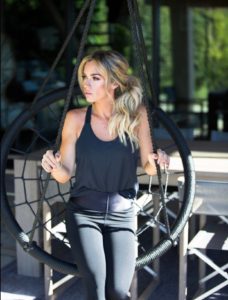 Fertility can be tricky, and RMA Southern California Dr. Kay Green, based in West Los Angeles, recently helped a newly-expecting celebrity mom and her podcast listeners make sense of it all.
Speaking on Teddi Tea Pod, the podcast of Real Housewives of Beverly Hills starlet Teddi Mellencamp, on Tuesday, Dr. Green, a fertility doctor, touched on a range of fertility topics, including egg freezing, STIs, endometriosis, fibroids, polyps, Polycystic Ovary Syndrome (PCOS), chemical pregnancy, ectopic pregnancy, miscarriage and natural conception after infertility.
The last topic was of particular interest to Mellencamp, who earlier on the podcast revealed she was pregnant with a baby girl who was not planned. While the discovery was welcome news, Mellencamp shared that it was surprising because she had struggled to conceive her first two children, now 7 and 5 years old. For her first, she conceived through Intrauterine Insemination (IUI), and her second was conceived through In Vitro Fertilization (IVF), but only after several failed attempts and a miscarriage.
Drawn to the field of women's health because of the unique opportunity it afforded her to advocate for the reproductive well-being of patients, Dr. Green completed her OB/GYN residency at William Beaumont Hospital in Michigan, and her Reproductive Endocrinology and Infertility (REI) fellowship at the National Institutes of Health (NIH) in Bethesda, MD.
She then joined RMA, the national leader in fertility research and care, in Los Angeles, practicing alongside Dr. Thomas Kim and Dr. Temeka Zore. At RMA, Dr. Green offers patients fertility services including egg freezing and IVF, and egg and sperm donation for LGBTQ couples ready to start a family.
A native of Green Bay, WI and alumnus of the University of Notre Dame, Dr. Green was called on about three quarters through the episode to answer all sorts of questions about infertility, speaking with Mellencamp about common conditions.
Teddi: Is it odd to get pregnant naturally years after needing fertility treatment to conceive?
Dr. Green: We don't believe that going through fertility treatment makes women more fertile, but just being more relaxed, something many women feel after treatment is over and their stress level has diminished, can make a difference in helping women conceive.
Teddi: When is the best time to freeze your eggs?
Dr. Green: The best time to start thinking about freezing your eggs is around 30 years old. Having the procedure in your mid-30s is a good idea, keeping in mind fertility declines significantly into a woman's late 30s. By a woman's early 40s, egg freezing is not encouraged.
Teddi: Which STIs may make it hard to conceive?
Dr. Green: STIs like gonorrhea and chlamydia can impact a woman's fertility because of damage to her reproductive tract. A woman should let her OBGYN know if she has a history of STIs.
Teddi: What are early signs that something may be wrong with your fertility?
Dr. Green: A lack of period, an irregular period, or a painful period can all be signs early on that a woman should see an OBGYN, or, if trying to conceive, a reproductive endocrinologist, sooner rather than later.
Teddi: Can endometriosis be a problem?
Dr. Green: Yes. Endometriosis occurs when endometrial tissue, usually inside a woman's uterus, grows outside the uterus. It can cause infertility by preventing the sperm and egg from meeting and fertilizing, or preventing the embryo from implanting.
Teddi: What are polyps or fibroids?
Dr. Green: Both are usually benign tumors inside the uterus that can prevent embryo implantation.
Teddi: What is Polycystic Ovary Syndrome (PCOS)?
Dr. Green: PCOS is a condition that causes your ovaries to produce many follicles, but not to mature or ovulate a lead follicle, leading to infertility.
Teddi: What's a chemical pregnancy?
Dr. Green: A chemical pregnancy is when a pregnancy is identified by bloodwork, through the HCG hormone, but is not seen on ultrasound, and therefore is not viable.
Teddi: What about an ectopic pregnancy?
Dr. Green: This is when an embryo does not implant inside the uterus, where it should, but elsewhere, most commonly in the fallopian tube. This is considered a risky pregnancy.
Teddi: How common is miscarriage?
Dr. Green: Miscarriage is extremely common, accounting for as many as 30 percent of all pregnancies.
If you are struggling to conceive, or just want to know more about your fertility, you can make an appointment with Dr. Green at our Los Angeles practice.