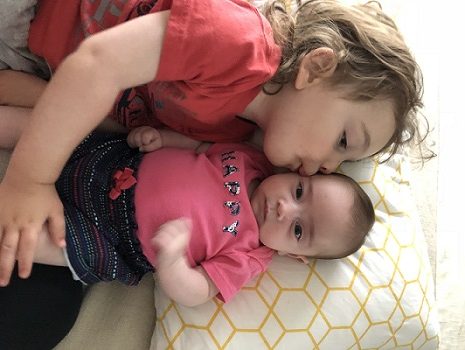 Oops, he did it again. Had a child on his own, that is.
Tom Garden likes to say he was married – to his business. That marriage headed for a divorce, though, when Garden realized his career wasn't bringing him any real meaning. At 47 years old, he looked back on his life and saw little he could grow old with – sure, he was proud of the family business he built, and yes, he was proud of the close relationship he had with his mother, but there was something missing.
"Kids," says Garden, who is almost 49 and lives in Minneapolis. "I never thought I'd want to be a dad, but the older I got, the more I realized there was more to life than making money."
"After two of my sisters died early from cancer, I wanted the opportunity to give love to a child."
The only problem was that Garden was single. He'd been so busy building his business that he had no time to date. By the time he wanted a family, he ran into two issues – women his age didn't want any more kids and those younger than him didn't want to date an older man. So Garden did what any single man approaching his landmark 50th birthday would do: he decided to start a family on his own.
Well, maybe not any man. But no matter how unconventional the path, Garden was determined to make it a reality.
"I knew I wanted a family, so I began looking into egg donors and gestational carriers."
You may know the rest of the story – Garden's extraordinary journey was featured across the news media last year, gaining him the support of hundreds of people, from couples raising traditional families to single men and women who say Garden inspired them to begin a family on their own.
"My message is the same now it was then," Garden says. "It's not too late to have a family."
If you haven't been following, here's the short version: Garden, who is Jewish, enlisted the help of RMANJ Dr. Susan Treiser to find an egg donor from Israel and a gestational surrogate from Arkansas and had a child in June 2016. His name was Joseph. Last year was Garden's first Father's Day, and his life was completely changed – he'd quit his job and became a stay at home dad, long hours on the computer replaced with a different kind of responsibility and stress – sleepless nights catering to a crying infant, days filled with feedings and diaper changes, and the moments in between spent worrying about a newborn you suddenly love more than life.
That was last year.
What's happened to Garden since?
Well, let's just say he did it again with Dr. Treiser. His daughter Talya Elizabeth was born March 16 this year.
"She's a full sister to Joseph and the sweetest little thing," Garden says, referring to using the same egg donor and surrogate for Talya as he did for Joseph. "Now if we could just get her to sleep through the night."
Garden is in love with his children, but he's also extremely thankful to his egg donor and his surrogate, who agreed to carry his second child – something that is rare in gestational surrogacy, especially since his surrogate has already had four children of her own.
"She's just so salt of the earth, she's an angel," Garden says. "She's always calling me to give me parenting tips."
"What both of these women have done so I could be a father is amazing – I'm so grateful."
Garden's life is more hectic than ever ahead of his second Father's Day. But the former CEO isn't done yet.
"I want to have one more child," he says. "If my surrogate says yes to another one, next spring we are going one more round."
"How amazing would it be to have three children from the same surrogate?"
Almost as amazing as it would be if Garden didn't need a surrogate at all.
Since he told his story last year, he's gotten a significant amount of fan mail applauding him for his choice, people from all walks of life telling Garden he gave them the courage to go at it alone. Although Garden was humbled by all this fan mail, most of the exchanges were short lived. One has endured.
"I had several women contact me who were inspired by the story, and one of them I've been talking to on Facebook for a year," he says. "I'm going to visit her next month to see where it goes."
He pauses.
"I knew I was going to get a baby through this process, but I didn't know I was going to find love!"