When Dr. Scott Morin and his longtime friend and colleague Dr. Jonathan Kort first contemplated the idea of building a new fertility clinic in San Francisco, they were driven by one thing: giving patients in the Bay Area access to world-class fertility care.
The thought of opening a new clinic in one of the most crowded healthcare markets in the country would have been a daunting undertaking for anyone, but Dr. Morin and Dr. Kort – both fellowship-trained reproductive endocrinologists and Californians – saw it almost as a responsibility. With this entrepreneurial spirit and a unique understanding of what patients in the Bay Area deserve and care about, they set to work making their dream a reality.
The RMA NorCal difference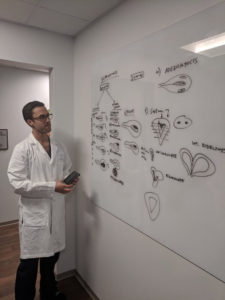 The pair decided they would open the fertility clinic in San Francisco, but with one caveat: they would do things differently.
They would treat patients like people. They would be accessible and remove any communication barriers between patients and their doctors. They would make every clinical decision based on evidence, science, and safety. And they would give everyone who walked through the door – whether for egg freezing, Intrauterine Insemination (IUI) or In Vitro Fertilization (IVF) – the best possible chance of success.
That caveat has turned into an unwavering clinical philosophy, and the pair of physicians opened Reproductive Medicine Associates of Northern California (RMANorCal) last fall. Located in the heart of downtown San Francisco with a satellite office in Palo Alto, the clinic is determined to infuse new life into the field of reproductive endocrinology.
"At the end of the day, we share the same goals as our patients, and we take their care personally," Dr. Morin, who grew up in the San Joaquin Valley, said. "Our patients have gone through a lot before they even step through the door, so once they are here, it's our job to be understanding of their journey. We try to combine this attentiveness with the power of our international research network and world-class IVF lab to give them what they came for."
"And we treat every single patient with that level of dedication and respect. Every time."
One healthy baby at a time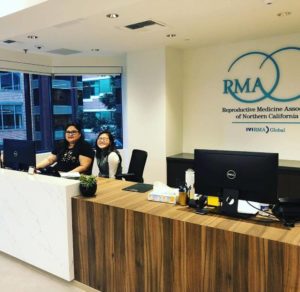 While stories of twins and triplets may still pervade the public's perception of assisted reproduction and IVF, the reality is a world apart.
Technological and scientific advances over the last decade have completely transformed the practice. In the RMA network, one embryo is transferred at a time in more than 90 percent of cases. Success rates have climbed and singleton babies born through IVF are protected from the risks of multiple pregnancies.
How has it happened so quickly?
Someone had to lead the pack. Because the scientific study of human embryos is not funded by the government, the role of research, innovation, and development has been left to the industry, and one infertility network, in particular, has taken up the mantle of discovery for the rest of the field: IVI-RMA Global, to which RMA of Northern California belongs.
Over the last two decades, the network – comprised of more than 65 fertility clinics in eleven countries, including their flagship U.S. clinic, Reproductive Medicine Associates of New Jersey (RMANJ) – has invested millions of dollars into research aimed at improving outcomes for patients.
From describing how to optimally synchronize the development of embryos in the laboratory to the receptivity of the uterus, to inventing a way to test for chromosomally normal embryos that would do best in utero, to conducting one of the only studies on the pregnancy outcomes of previously frozen eggs, IVI-RMA Global is literally redefining the standard of care, one study at a time. And, with success rates consistently above the national average, patients are benefiting.
"Everything we do, we do to improve outcomes for patients," said Dr. Kort, who has lived in the Bay Area for nearly a decade, "and we wanted to bring the depth of our clinical experience to the San Francisco community."
RMA NorCal fertility care
The clinic offers the full range of fertility care: egg freezing for women not ready to start their families, IUI for couples that need a little bit of help, IVF for couples who need an extra push, and donor services – including eggs, sperm and embryos – for same sex, trans or single people.
"We want to empower people to take charge of their fertility," said Dr. Morin, "and we want them to know that even with the most challenging infertility cases, we are hopeful because we are grounded in science."
If it sounds like the pair of doctors are passionate about the industry, it's because they are. Both sons of physicians who practiced women's health – Dr. Morin's father was an OBGYN and Dr. Kort's father was an infertility doctor – the pair learned early on in their lives how important family-building was to them and decided to pursue reproductive endocrinology to help others with their dreams of starting a family.
Today, patients coming to RMA of Northern California are not only given the best chance at success to have children now or later, but they are treated with respect and dignity.
Staff remembers not just faces, but names. Drs. Kort and Morin – not technicians – perform all cycle monitoring procedures, and when it comes time for egg retrieval or embryo transfer, patients' favorite songs will play to lighten the mood and put them at ease. Any last-minute questions for the doctor are not left until the next visit, either. Instead, the office is leveraging technology to improve communication between patients and providers via a HIPAA-compliant SMS platform. Above all, the doctors, nurses, and entire staff at RMA of Northern California are working to make fertility treatment more transparent so patients feel empowered, informed, and confident they're in the right place.
"We are honored to do whatever we can to help our patients achieve their dreams," Dr. Morin said.